First of all, herbs against anxiety are always a short-time support and not a sole solution. One must work on it, sometimes with sports, sometimes with meditation. Always think "what's the worst that could happen?".
Some anxiolytic herbs (they act on different neurotransmitter-systems):
Paeonia lactiflora- root
Paeonia moutan- root (very active)
Cyperus rotundus- rhizome
Corydalis yanhusuo- root (very active)
Tilia tomentosa (and other Tilia sp.)- flowers
Hypericum perforatum- herb (highly active)
Magnolia officinalis- bark
Passiflora incarnata- leaves (methanol-extracts are highly active)
Salvia miltiorrhiza- root
Valeriana wallichii- root
Evolvulus alsinoides- herb (very active)
Ptychopetalum uncinatum / olacoides- wood
Bacopa monnieri- herb
Rhodiola rosea- root
Erythrina mulungu (highly active)
Eriocephalus africanus- herb
Marsilea minuta- leaves (also has anti-aggressive activity but acts on Serotonin-receptors)
Clerodendrum philippinum syn. C. fragrans- flowers (very active)
Abelmoschus moschatus- seeds
Mumio (Artsch- and Mineral)
Salvia rutilans syn. S. elegans- herb
Chondrodendron tomentosum- bark
Trichosanthes kirilowii- fruit
Albizia julibrissin- leaves, bark and flowers (very active)
Clitoria ternatea- leaves (very active)
Convolvulus pluricaulis syn. C. microphyllus- leaves (very active)
Piper methysticum- root
Sceletium tortuosum- herb
Some plants with compounds, acting on Benzodiazepine-receptors:
Salvia miltiorrhiza- root
Perovskia abrotanoides- leaves (contains Miltirone like Salvia miltiorrhiza)
Salvia canariensis- herb (Galdosol)
Hieracium pilosella- herb
Scutellaria laterifolia- herb
S. barbata- herb
S. baicalensis- herb
Hypericum perforatum- herb
Cyperus rotundus- rhizome
Sesbania grandiflora- flowers
Boerhaavia diffusa- herb (Hypoxanthine also regulates cortisol and because of this a stress-regulator)
Leptospermum scoparium- leaves and honey (Manuka)
Clitoria ternatea- leaves
Tilia tomentosa- flowers
T. platyphyllos- flowers
T. argentea- flowers
Scoparia dulcis- herb
Paeonia lactiflora- root
Paeonia moutan- root
Stachytarpheta cayennensis- leaves
Clerodendrum philippinum- flowers
Hypericum hircinum- herb
Rubus brasiliensis
... with actions on other GABA-subtypes:
Ziziphus spinosa- seeds
Z. jujuba. seeds and fruit
Valeriana officinalis- root
V. mexicana- root
V. celtica- root
V. wallichii- root
Nardostachys jatamansi- root
N. chinensis- root
Sclerocarya birrea ssp. caffra
Cissus quadrangularis- stalks
Angelica sinensis, polymorpha, pubescens- roots
A. dahurica (also acts on GABA-Transaminase)
Ligusticum chinense- root
Comparison of the binding affinity (IC50) on the Benzodiazepine-receptor:
Diazepam… 0,03-0,05
μ
M (Mindestdosis: 1-2mg)
Flurazepam…0,17
μ
M
Amentoflavone… 0,006-0,014 μM –Ki: 0,037 μM (main constituent in Dioon edule)
Agathisflavone… Ki: 0,028 μM (Biapigenine) …in Bauhinia vahlii, Rhus pyroides, ...
Xenovulene A… 0,04-0.05 μM (in the fungus Acremonium strictum)
Mayumbine... 0,076 ± 0,0035 μM
(in Rauvolfia vomitoria and Corynanthe mayumbensis)
Miltirone…... 0,3 μM
(part. agonist. diterpene from Salvia miltiorrhiza; NMDA-R.-Antagonist)
Skullcapflavone (Neubaicaleine)…0,36 μM (auch Ki)
(a Flavon from Scutellaria baicalensis)
Phellopterine… 0,4-0,68 μM ~ 0,36 μM
(a part. agonist. Furanocumarine from Angelica dahurica)
Hispiduline
… 0,8-1 μM –according to other data
1,3
μM
Galdosol
… 0,8 μM (a diterpenoide from Salvia officinalis and S. canariensis)
Chrysine (5,7-Dihydroxyflavone)
… 2 μM (in Passiflora- species, Diazepam is only 40x as strong)
5,7-dimethoxyflavone
… 2,1 μM (in Manuka respectively Leptospermum scoparium)
Wogonine…3-3,6 μM
5-hydroxy-7-methoxy-6-methylflavone
... 3,3 μM (in Manuka resp. Leptospermum scop.)
Galangine-3-methylether… 3,5 μM (in galgant- resp. Alpinia galanga- root)
Isoginkgetine
… 4-5 μM (a flavone from Ginkgo)
Ginkgetine
(Amentoflavone-7,4'-dimethyl ether) … 5 μM (a flavon from Ginkgo)
7-Methoxyrosmanol …7,3 μM
Byakangelicol
… 8 μM (a furanocumarine from Angelica dahurica)
Isoquercetine… 10μM
Baicaleine…10,1- 13,1 μM –Ki: 13,1
Imperatorine
… 12,3 μM (a part. agonist. furanocumarine from Angelica dahurica and A.sinensis)
Oroxyline… 14,6 μM (also Ki) (in Scutellaria baicalensis)
Cirsiliol…Ki: 20μM at Typ I- BZD- R. (like Zolpidem and displaces Zolpidem)
Tanshinone IIA …20
μM
(from Salvia miltiorrhiza- root; and also an NMDA-R.-Antagonist)
Scutellarine…21
μM
Apigenine… 30
μM
…
according to other data 3 μM
(in camomile, parsley and many other herbs)
Carnosolic acid… 33 μM
Luteoline… 49 μM (in Passiflora incarnata, Scoparia dulcis, among others)
Carnosol… 57 μM
α-Casozepin… 88μM (in the casein-fraction of cow-milk)
Kaempferol… 93μM (Ki)
Baicaline…137 μM
Cirsiliol…Ki: 200μM
Acacetine… 3500μM
Obovatol…?
Epinepetalactone…? (Nepeta sibthorpii)
Actinidine…?
Ajmalicine (= Raubasine)…?
6-Methylapigenine…?
Cryptotanshinone
…? (from Salvia miltiorrhiza- root; and also NMDA-R.-Antagonist)
Also very promising are the plant-compounds and endogene neurosteroids Allopregnanolone and Epipregnanolone, which act as very strong anxiolytics on GABA-barbiturate-receptors:
Allopregnanolone has strong narcotic, anxiolytic, antidepressive and socialising properties.
The sedative action of allopregnanolone through the barbiturate-GABA-receptor was
only observed at low doses
. High doses cause the opposite, which can create petulance by inhibiting GABA-receptors. Pregnanolones are much safer than barbiturates.
Allopregnanolone is found in the south-african plant Xysmalobium undulata (uzara- root), which is also used as sedative
The chaste tree (Vitex agnus-castus) contains a Allopregnanolone-precursor: Progesterone in its leaves:
The chaste tree is known as women's herb, but also for men it has healing and potential psychoactive (sedative, anxiolytic) properties. The plant has euphoriant, sedative, anxiolytic, aphrodisiac, antiinflammatory and analgetic actions.
The euphoriant action is mediated through dopaminergic diterpenes (rotundifurane, vitetrifoline, viteagnusine A), which also are responsible for aphrodisiac (hypersexuality) actions through agonistic actions on D2/D3- receptors. There was also found a definitive opioid action on mu-receptors.
The leaves (not the seeds) contain Progesterone, which is the precursor of the endogene neurosteroid Allopregnanolone in our body, which is the endogene neurotransmitter for the barbiturate-GABA-receptor.
The progesterone is active on itself, with anxiolytic actions among others. It is antagonistic on sigma-receptors.
The seeds of the chaste tree indirectly enhance endogene progesterone-levels.
Women use chaste tree- seeds for hormone-regulation.
The iridoids agnuside and aucubine have antiinflammatory, estrogenic and fungicide effects.
Allopregnanolone-amplifier:
Gelsemium sempervirens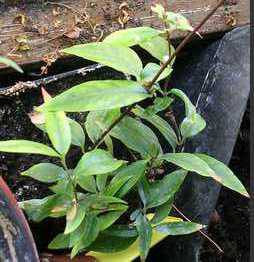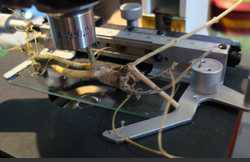 ...is really a very dangerous plant, but as always its the dose which decides whether toxic or psychoactive / healing.
This climbing, aromatic plant is used in north- and central-america from indigenous peoples as narcotic. At higher doses it can cause hallucinations.
The main constituents, gelsemine acts pharmacologically contrary to strychnine and possibly could be used as antidote for it, because gelsemine acts also very potent on the glycine-receptors, but activating, while strychnine is a inhibitor on this receptors.
Newer studies reveal an interesting neuropharmacology:
The activation of glycine-receptors with very small doses gelsemia-root promote the endogene allopregnanolone- production.
http://www.ncbi.nlm....pubmed/19628662
In my experience already a very small dose has pleasant relaxing and definite anxiolytic action. I used one tenth (1/10) of a tincture from safe 0,05g of the dried root.
BUT: The use (if at all) is only recommended with greatest precaution. It is really a very dangerous plant!
Edited by mindperformer, 26 August 2012 - 10:19 PM.