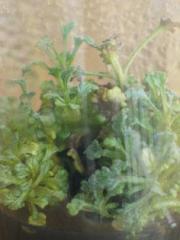 I have PDF copies of a 1979 Waters manual outlining the selection of solvent systems when upscaling from TLC to PrepLC. Not being the scientific type I don't know whether PrepLC is any different to normal LC.
The document is about 30 pages long and outlines what sort of Rf's you want when doing TLC and LC to achieve the best separations- and how to select a solvent suitable for silica column PrepLC once you get good results with your initial TLC separations- it seems you can't just upscale to PrepLC using the same solvent system you used in TLC.
It's pretty easy to read and understand, well, so far for me. I need a closer look at it if I was going to do any actual work with it, but it doesn't seem to be rocket science
If copies are of any use to anyone I'll send them out on CD as a trade. Two files will be on the CD, an OCR .pdf so you can word search it on your puter, and a normal non-OCR .pdf so you can print it out and use it as a manual: a couple of the graphics details etc were ever so slightly compromised during the OCR so it's only fair to have an original document you can print as well.
Dunno what I want to trade that anyone might have- anything that's on my trade list in my earlier blog entry- or maybe sterile cultures of Oyster or Reishi mushrooms. But even if you don't have that and you think you might have something to trade that I'd like, just PM me.