Exhausted/ run out Mitragyna speciosa TC plantlet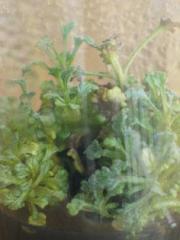 This is what happens if you keep a plant in culture over several years.
Repeat subculturing down the line ( as opposed to subculture from preserved parent plant tissue by methods such as cryo storage or storage media formulation ) inevitably leads to a degradation in plant quality.
In this instance poor quality was indicated by a wilting stem, occasional wilting and browning of older leaves, a lower proliferation rate and a radical decrease in deflasking success.
There are a number of ways around it, and they are different for each species- and in some cases each individual plant. In this instance we got best results from moving from a solid media to a liquid media- other media formulations didn't actually achieve good results
There is no telling how many generations it will take a plant in culture to become exhauseted or run out. In this instance it was 20 generations or so, but a related sp, started at the same time, has yet to show signs of unresponsiveness to culture. Ideally you would best guard against this eventuality when planning your TC project at the start.