Stock-induced Cresting?! (3)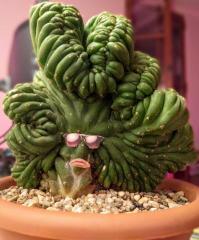 So fucking hyped! I think I have a golden goose right there!
Why, you ask? This regular seed-grown bridgesii that I grafted on my crested pereskiopsis looks like it is starting to crest! I believe the pere passed the cresting virus on to the bridge, I heard that some people do it with other types of stocks (opuntias I think).
I hope this'll also crest the variegated loph, that would be worth a lot of money 
I'm going to clone the hell out of this pereskiopsis and crest all the things if it really is doing what I think it's doing, we'll know for sure in a couple weeks tops I guess.
Any thoughts? Do you think it's cresting or just changing rib count?
1