I have no idea how this will end up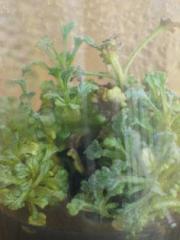 I have no idea how this will end up looking or what form it will take, so bear with me
Plants I want
Meconopsis spp.
Pedicularis spp.
Corydalis solida, nobilis or any other perennial cory spp
Eleutherococcus senticosis- Siberian ginseng. I have seed, it germinates very very slowly. I want whole plants please!
Stuff I have
There's usually some obscure plant floating around the lab somewhere avail to trade. At this time I'm really only interested in trading for the species listed. If you have them, let me know and I'll see what I can dig up in exchange
Plant tissue culture advice and information
I run the TC labs affiliated with SAB and am happy to help out with advice for plant tc beginners. I'd rather you ask me directly on the forums though- where at all possible- so that others can benefit from the exchange both now and in the future.
If you need help can you please make sure you check that your question hasn't already been dealt with before by using the forum search engine? Thanx